Field Trips
NOTE: Registration for both field trips is included in the general registration price for the conference. Registration for a single field trip is also possible. Please read the Pre-Activity letters for both field trips (Fieldtrip#1 and Fieldtrip#2), complete the Medical and Emergency Contact form and sign the AAPG Release and Indemnity Agreement, and bring the last two with you. If you have any questions, please contact the Field Trip leaders listed on the forms.
Field Trip #1: Monday, April 1, 2019
Mixed Silicilcastic-Siliceous Succession, Miocene Monterey/Modelo Formation, Northern Los Angeles/Santa Monica Basin, Malibu, California
Leaders: Wanjiru Njuguna1 and Rick Behl2
1 Southern California Gas Company
2 California State University Long Beach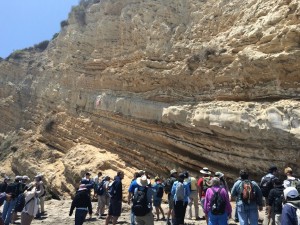 The Los Angeles basin is thought to be the most productive petroleum province in the world per volume of sediment fill. In spite of being the primary source and a principal reservoir, the Miocene Monterey Formation and its lithostratigraphic equivalents in the Modelo and Puente formations have been little studied in this basin. This field trip will examine a beautifully exposed ~750 meter-thick (~2500') section of the Miocene Monterey/Modelo between Point Dume and Paradise Cove in Malibu Beach. The stratigraphic section is subdivided into four lithostratigraphic members: the Dolomitic Phosphatic Shale Member, the Porcelanite and Shale Member, the Mixed Clastics Member and the Cherty Diatomite Member that show some similarity to Monterey members in the well studied distal basins (e.g., Santa Barbara, Santa Maria). These members provide interbedded and interrelated source rock and several types of potential reservoir rocks – fractured porcelanite, highly porous diatomite and high permeability sandstone strata that were deposited and diagenetically altered in a series of depositional environments on the fringe of a submarine fan system. TOC values in the Dolomitic Phosphatic Shale range from 4.2 to 7.5%. In this outcrop section, siliceous sediments are either in opal-A diatomite and diatomaceous mudstone or in opal-CT-phase chert and porcelanite. Rocks showing a complete diagenesis to quartz phase silica (with the associated higher permeability of quartz porcelanites) are not exposed in the section, but are likely to exist in more deeply buried sections in the subsurface offshore and in the more proximal basin. The Point Dume-Paradise Cove succession in Malibu Beach, along with more highly weathered exposures in Palos Verdes and Newport Beach, are the best analogs for the Monterey Formation in the Los Angeles basin and Inner Southern California Continental Borderland.
Field trip #1 departs at 7 AM from in front of the Walter Pyramid. Please arrive in time to sign waivers and receive guidebook and lunch. Bring a backpack to carry lunch, camera, hat, light jacket and other gear. Be aware that this field trip has a 2-mile (3-4 hour) beach walk with bathrooms only at the beginning and end.
Field Trip #1 Leaders


Wanjiru Njuguna

Rick Behl
---
Field Trip #2: Wednesday, April 3, 2019
Proximal and medial deep water channel deposits of the Mio-Pliocene (Neogene) Capistrano Formation of Orange County, California.
Leaders: Don Clarke1 and Dan Schwartz2
1 Geological Consultant
2 Daniel E. Schwartz, LLC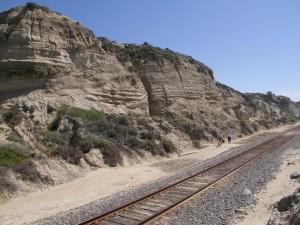 San Clemente and Dana Point are world class exposures of clastic rocks that are excellent analogs to California oil reservoirs. The geologist can observe the cliffs from close up and from a distance in three dimensions. There are many diagnostic depositional features that will fuel discussions on oil reservoirs. These two locations bring the geologist right into the reservoir.
The Capistrano Formation (Neogene age) of Southern California contains deepwater clastic sedimentary facies deposited in proximal and medial channel settings. The outcrops at Dana Point Harbor, Dana Point, Orange County, California consist of five channel elements deposited within a proximal fault bounded submarine canyon in a lateral shifting and vertical aggrading sequence. Heterolithic units consisting of debris-flow transported breccia interbedded with traction-flow transported pebbly sand and sandstone deposits that overlie slope mudstones and sand injectites. Breccia consist mainly of angular clasts of siliceous (Opal-CT phase) mid-to-late Miocene Monterey Formation that was transported 7.5 to 13.5 kilometers down the proto-San Juan Creek channel system. Traction deposits consisting of Mesozoic to middle Miocene clasts were transported 13.5 to 40 kilometers down the proto-San Juan Creek channel system. The complex nature of the units and variability of clast types enables discrimination of slope failure from continuous discharge channel-transport events.
The Capistrano Formation at San Clemente State Beach, Orange County, California was deposited in a medial submarine fan setting and is dominated by traction and grain-flow deposits with common turbidites. The outcrops enable the observation of erosive channel flanks, the vertical stacking of side channel bar-elements, and lateral shifting of channel bar complexes with well-developed mudstone drapes separating bar complex units with erosion surfaces below the mud drape. There are two main outcrop locations; the southern location south and north of the San Clemente State Beach parking lot, and the second outcrop approximately two kilometers to the north, near the San Clemente Pier. The two outcrops are separated by a Capistrano Formation slope mudstone mound. The two outcrop locations may be part of a single channel meander bend. Both outcrop sections have ten channel elements. The northern section was deposited from north to south and the southern section from south to north. The San Clemente State Beach units enable observation small scale elements associated with depositional sequences and vertical and lateral flow barriers; as well as larger scale features associated with channel shifting and overall channel complex geometry.
Field trip #2 departs at 8 AM from in front of the Walter Pyramid. Please arrive in time to sign waivers and receive guidebook and lunch. Bring a backpack to carry lunch, camera, hat, light jacket and other gear.